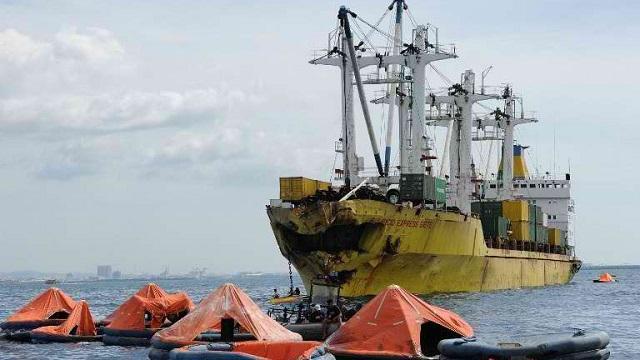 The shocking news about the motor banca MV Nirvana-B capsizing just after leaving Ormoc port has left dozens dead and more missing. The Philippine Coast Guard is still working on rescue operations as of press time.
We list down shipping accidents in the past 20 years:
- MV Cebu City, Dec. 2, 1994. The MV Cebu City collided with Singapore oil tanker MV Kota Suria off Manila Bay and sunk. Seventy-three perished while 41 were declared missing. The MV Kota Suria incidentally, only had a dent in its bow.
- MV Viva Antipolo VII, May 16, 1995. The MV caught fire within the vicinity of Lucena, Quezon. Sixty-two died and 10 went missing.
- MV Kimelody Cristy, Dec. 13, 1995. The cold winds of December wasn't enough to fan out the flames that engulfed the ship off the coast of Fortune Island, Nasugbu, Batangas. Twenty-four perished with 13 missing.
- ML Gretchen I, Feb. 18, 1996. Made of wood, the ML Gretchen I did not stand a chance against strong winds and sank near Cadiz City. Aside from its seaworthiness, the ship was also overloaded and had no radio on board. Fifty-one died.
- MV Princess of the Orient, Sept. 18, 1998. The MV Princess sailed from Manila to Cebu despite a raging typhoon. The ship capsized near Fortune Island, Batangas bringing with it 70 lives.
- MV Asia South Korea, Dec. 23, 1999. The ship was en route to Cebu City when it hit rocks off Bantayan Island. Water gushed in the hole, which led to its sinking. Fifty-eight were killed.
- MV Maria Carmela, April 11, 2002. Fire broke out at the ship's cargo vessel and even burned for 3 days before sinking near Pagbilao Island in Quezon. Thirty-nine people lost their lives.
- MV San Nicholas, May 25, 2003. MV San Nicholas collided with SuperFerry 12 near Limobones Point, Corregidor. While the SuperFerry didn't suffer major damages, the San Nicholas sunk and with it, 43 lives.
- SuperFerry 14, February 27, 2004. The only shipping disaster as a result of a terrorist attack, the SuperFerry 14 was bombed by Abu Sayyaf terrorists resulting in the deaths of 94 people.
- MV Princess of the Stars, June 21, 2008. Despite its large size, the Princess of the Stars capsized after facing rough seas off the coast of Romblon. Four-hundred thirty-seven people died with 605 people missing.
- MBca Don Dexter, November 4, 2008. The motor banca capsized after its outrigger broke near Dimasalang, Masbate. Forty-two people died with 10 people missing.
- MBca Jen Mar, December 14, 2008. Another motor banca broke its outrigger though the boat was carrying past its passenger limit. Forty-seven people died as a result of the incident.
- MV St. Thomas Aquinas, August 16, 2013. MV St. Thomas Aquinas was headed for the port of Cebu when it struck MV Sulpicio Express Siete. The ship immediately began to sink. Within 30 minutes, the ship was underwater. One-hundred fourteen people perished with 23 missing.
Thursday 2 July 2015
http://www.philstar.com/news-feature/2015/07/02/1472499/tragedy-sea-ship-mishaps-last-20-years