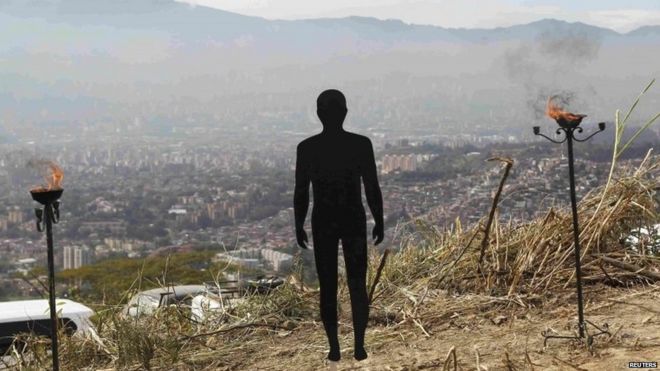 "I know the grave was here," says the ex-combatant, Andres Martinez, wiping his brow as a forensic expert starts in with a shovel near the rural town of Chaguani.
Though it's only mid-morning, the motley team of forensic staff, prison guards and ex-rebels from the Revolutionary Armed Forces of Colombia (FARC) have already dug one trench in heavy rain, hoping to find the bones of a victim of the 50-year conflict.
The missing man, who the FARC says was a member of a rival group shot in battle, is one of at least 52,000 Colombians who have disappeared during a long war between Marxist rebels, government troops and right-wing paramilitaries.
Most were killed and buried in unmarked graves across the country.
As the government wades through complex peace talks with the FARC, rights advocates and families of the disappeared hope the rebels will reveal grave locations as part of a deal for them to avoid long prison terms and be allowed to enter politics.
Victims' groups warn that unless more bodies are exhumed, identified and returned to their families, Colombia risks handicapping its post-conflict development.
"The past is going to haunt them," said Christoph Harnisch, head of the International Committee of the Red Cross's (ICRC) office in Colombia.
An estimated 220,000 people have been killed in the war.
The violence, and the unknown fate of so many missing people, has stalled Colombia's development. The government is hoping for a peace deal this year and says its could add 2 percentage points to annual growth, but that would be at risk if implementation goes badly.
Even with an easing of the conflict over the last decade, work inside Congress is often stalled as lawmakers dissect each others' links to different armed groups.
Experts say the challenge facing Colombia could be even greater than in Argentina, Chile and Guatemala - where the disappeared of late-20th century conflicts were largely victims of the government - because so many armed groups are involved, complicating efforts to collect information.
Handcuffed to a prison officer, the ex-FARC fighter Martinez, who will serve just eight years in prison in exchange for information about bodies, points to where he thinks the grave is.
"Length-wise, this way."
"Is the body dismembered or whole?" excavation official Hugo Villalobos asks.
"Whole."
Apart from locating graves, usually in remote jungle or mountain terrain, the biggest obstacles to identification are investigators' lack of training, funding and equipment.
The workload will balloon if a peace deal is signed.
"Obviously it would mean an increase - an exponential increase," says Alvaro Polo, head of excavations for the attorney general's office in Bogota, where forensic staff pore over skeletons in their morgue. He says his team would need to double in size from roughly 70 now.
The ICRC calculates that nearly 70,000 people remain unaccounted for, more than the government's estimate, though some disappearances may be unrelated to the war.
The numbers are high even by the standards of Latin American conflicts. In Guatemala's brutal civil war, up to 45,000 people went missing. About 30,000 "disappeared" under military rule in Argentina, while 3,000 went missing during Chile's dictatorship.
UNIDENTIFIED BODIES
"Until we have bones, something we can say goodbye to, he's still alive," said Marcela Granados, 28, cradling a photo of her father Jose, who was taken by paramilitaries from their ranch in northeast Colombia in 2003.
Despite testimony from a neighbor, who saw him beaten, and the capture of one perpetrator, his remains were never found.
Polo's unit has excavated 6,000 bodies since 2007, more than 10 percent of the government's missing count.
Nearly half of the remains have been returned to families, but another 3,000 bodies lie unidentified in morgues.
Some have preliminary identifications, based on witness testimony or other evidence, but the majority are "pure unidentifieds" - meaning investigators have zero leads.
Victims mostly come from poor, isolated rural families who lack decent communication, hobbling efforts to get DNA samples to match with bodies that have been found.
Rights groups say investigators rely too much on testimony from ex-fighters and fail to use other techniques: interviews with communities, records of armed groups' movements or satellites and radar.
Stefan Schmitt, a German forensic expert who has met with Colombian officials, said Colombia should compile a definitive database of the disappeared because once "flashy exhumations" finish the unidentified stop being prioritized.
"You end up with warehouses full of remains," he said.
Finding the disappeared is easier said than done.
Staff often carry equipment for hours through inhospitable terrain to reach sites and few are certified to use technologies like ground-penetrating radar, said Polo.
Excavations in dangerous areas require army protection or helicopter transport. Captured insurgents sometimes withdraw testimony following threats, canceling exhumations.
Even when digs do occur, they fail to turn up remains at least half the time.
"Peace will bring something big," said forensic anthropologist Maria Alejandra Marino, packing up her equipment after eight hours work at the Chaguani excavation, where no remains were found.
Wednesday 29 July 2015
http://ca.reuters.com/article/topNews/idCAKCN0Q228820150728?sp=true