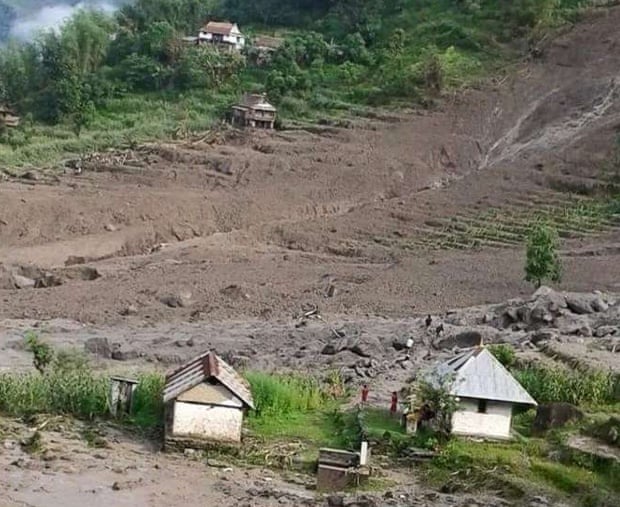 Rescuers are searching through piles of rocks and debris after a landslide swept through six mountainous Nepalese villages.
Heavy rain hampered the search in Taplejung district, about 310 miles east of the capital Kathmandu, where the landslide on Wednesday night caught residents asleep.
A lull in the monsoon rains yesterday enabled a rescue helicopter to evacuate eight injured people.
The remote area was pounded by the highest rainfall in 27 years, according to the Nepal's Department Of Hydrology and Meteorology. The nearest town is at least five hours away on foot when the weather is good. There are no government offices or police stations in the area.
Landslides are common in mountainous Nepal during the rainy season, which began in June and ends in September.
The Himalayan nation is still recovering from earthquakes in April and May that killed more than 8,700 people and caused massive damage, with many roads cut off by landslides.
Meanwhile, the government announced it would hire international experts to study trekking routes in the mountains of Nepal to see if they are safe for hikers to return.
Nineteen people were killed and scores injured in an avalanche at Mount Everest base camp triggered by the April 25 quake. Also, the trails around the Langtang valley in northern Nepal were damaged and an entire village buried by a landslide and avalanche set off by the earthquake.
Tens of thousands of foreigners come to Nepal every year to trek on the foothills of the Himalayan peaks. The next trekking season starts in September.
Friday 12 June 2015
https://home.bt.com/news/world-news/rain-hampers-nepal-landslide-search-11363986301498