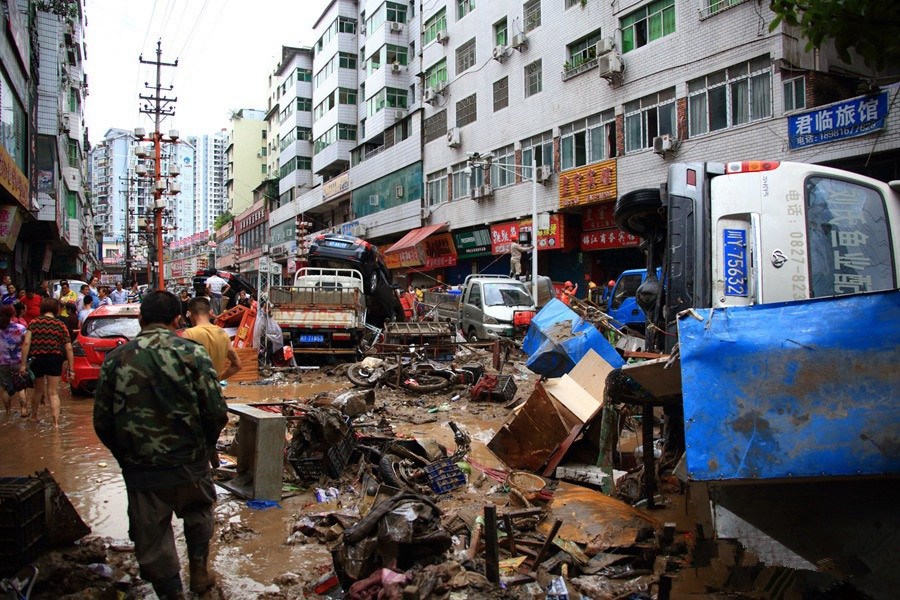 Rain-triggered floods and landslides in four provinces since Friday have left at least 28 people dead or missing.
Five people have died in landslides in Shangcheng County, Henan Province, where heavy rain has forced the evacuation of nearly 800 people, the collapse of 100 dwellings and damage to over 200 buildings, according to the county's publicity office.
Over 6,700 hectares of crops have been damaged and power and communications have also been affected.
It is estimated that the weather has caused direct economic losses of 305 million yuan (about 49.9 million U.S. dollars).
In Shaanxi Province, floods have killed four people and left nine others missing in Foping County, where economic losses are estimated at about 170 million yuan. Power and communications were disrupted in most townships, according to the county government.
In Sichuan Province, two people were killed by landslides in Nanjiang County, which reported its worst floods since 1949. The disaster forced the relocation of 263,000 people across 48 townships. Another woman was killed by a landslide in Sichuan's Pengxi County.
On Monday it was confirmed that two people had died and five were still missing after heavy rain caused floods and landslides in Jinzhai County, Anhui Province. The downpour has battered seven provinces and a municipality in China.
Tuesday 30 June 2015
http://en.cihan.com.tr/en/floods-landslides-leave-at-least-28-dead-or-missing-in-china-1810500.htm