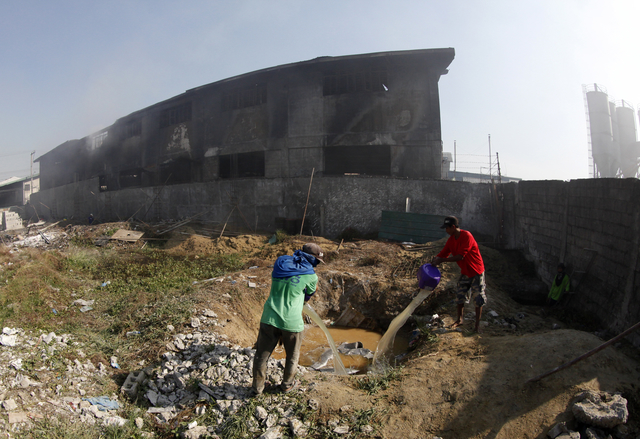 It will take up to two months to finish DNA testing, a necessary "last option" to identify the victims of a fire that razed a rubber slipper factory in Valenzuela City.
In a chance interview with reporters on Monday, May 18, Philippine National Police (PNP) Crime Laboratory deputy director for operations Senior Superintendent Noel Aranas said DNA examinations for the factory workers had begun, with at least 87 DNA samples from relatives collected as of Saturday, May 16.
Aranas said it might even take "less than 2 months." (READ: Gov't to probe 'pakyawan' system in Valenzuela factory)
"We're talking about the sheer volume of DNA samples [that have to be taken in]. Up until yesterday (Sunday), relatives of the victims were coming in for swabs," Aranas said in a mix of English and Filipino.
At least 72 people working at Kentex Manufacturing died on Wednesday, May 13, when a blaze swept through the factory. Initial investigation indicate it was caused by welding activities, which in turn enflamed combustible chemicals stored in the same compound.
Only 3 of the victims have been identified, with the rest were burnt "beyond recognition."
Relatives of the victims will have to submit samples of their DNA, which will be matched against the DNA of the remains retrieved from the factory.
Last Friday, the remains of the victims were buried temporarily. Authorities said that, of the 72 bodies pulled out from the factory, 36 were female, while 28 were male. The gender of 5 bodies remained unidentified.
The probe into the fire, one of the worst to hit the city of Valenzuela, is currently being conducted by different government agencies: the PNP's Crime Lab, the PNP's Criminal Investigation and Detection Group (CIDG), and the Bureau of Fire Protection.
Monday 18 May 2015
http://www.rappler.com/nation/93571-pnp-dna-test-valenzuela