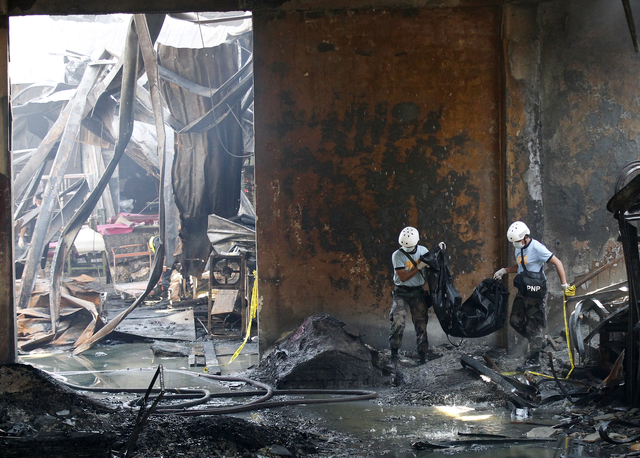 The Department of the Interior and Local Government (DILG) has set up a "one-stop-assistance-center that will facilitate interagency government assistance" to the relatives of the victims of a fire that killed 72 people in Valenzuela City last May 13.
The center, which will be staffed by representatives from the Valenzuela city local government, congressional offices, nongovernment organizations, and government offices, will be "operational within the week," DILG Secretary Manuel A. Roxas II said in a statement.
The government agencies involved are the "Department of Labor and Employment, Social Security System, Pag-IBIG Fund, Department of Social Welfare and Development, Department of Education, Philippine Charity Sweepstakes Office, Philippine National Police (PNP) and the Inter-Agency Anti-Arson Task Force of the Bureau of Fire Protection (BFP).
On May 13, 72 workers were killed when fire gutted footwear factory Kentex Manufacturing Corp. in Barangay Ugong, Valenzuela City. Reports said that welding sparks caused flammable chemicals to explode.
According to the release, a representative from the PNP Special Investigation Task Group (SITG) "Kentex" will be "available to entertain inquiries regarding the ongoing investigation, including progress of the tedious process of identification of the remains recovered at the razed factory."
In a case conference on Monday, Senior Supt. Edgar C. Danao, the commander of SITG Kentex, said that the PNP Crime Laboratory "has already made initial identification of some personal belongings and personal effects" recovered at the scene of the fire. Representatives from the BFP, Valenzuela City government, PNP Crime Laboratory, Criminal Investigation and Detection Group (CIDG) and other PNP units are involved in the investigation, the release said.
Mr. Danao said that "the PNP Crime Laboratory will also attempt to identify some of the recovered human remains through forensic odontology by comparing the victims' remains with available dental records."
DNA specimens from the victims' living family members have been collected "for possible matching with DNA extracted from the bodies," Mr. Danao said.
Temporarily, the recovered remains of the fire victims are "kept in individual coffins inside niches at the public cemetery and properly labeled for organized recording."
Mr. Danao was said to have tasked the CIDG to collect "the sworn statements of the first responders to assist probers in establishing the events before, during and after the incident."
Kentex already has a copy of the After Fire Operation Report of the fire, dated May 15 and submitted by the fire district marshal of Valenzuela.
Wednesday 20 May 2015
http://www.bworldonline.com/content.php?section=Nation&title=one-stop-aid-center-for-kentex-fire-victims&8217-kin&id=108184