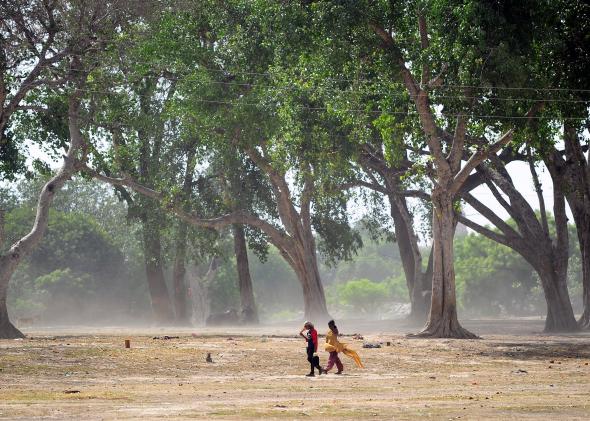 Temperatures dipped marginally in southern India Friday where a deadly heatwave has killed at least 1,800 people, officials said.
The bulk of casualties were reported from the southern states of Andhra Pradesh and Telangana, which saw their highest sustained summer temperatures in 12 years over the past week.
At least 300 more deaths had been counted in Andhra Pradesh since noon Thursday and more than 100 in Telangana, taking the total toll in these two adjacent states to 1,774, disaster management unit officials of the two states said.
"Most of those who died are poor people who are forced to work in the open because of their livelihoods or the elderly," said Andhra Pradesh disaster management commissioner P Thulasi Rani.
Many of the deaths were reported from Andhra Pradesh's coastal districts where the mercury hovered above 44 degrees Celsius (111 Fahrenheit) for a week but showed a dip Friday to the high 30s (up to 102 Fahrenheit).
Another 43 deaths were reported from the eastern Indian state of Orissa, seven from Gujarat state in the west and two in the national capital, NDTV news channel reported.
The meteorological office predicted the heatwave would continue into the weekend but may ease by Monday when the seasonal monsoon rains are expected to hit the Kerala coast.
Government agencies were advising citizens to drink plenty of water, keep their heads and bodies covered to avoid sunstroke and keep indoors as much as they could.
Saturday 30 May 2015
http://www.bellinghamherald.com/2015/05/29/4319408_indias-deadly-heat-wave-drags.html