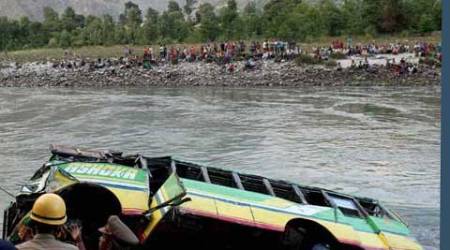 At least 18 people were killed and three injured on Sunday when a minivan overturned in western Afghanistan, provincial officials said.
The accident in the Bala Murghab district of Badghis province was due to the driver's "recklessness," said provincial governor's spokesman Mirwais Mirzakwal, who gave the casualty figure.
Sharafudeen Majeedi, chief of staff in the governor's office, confirmed the death toll.
The injured were taken to hospital by local people while police and a rescue team retrieved the bodies.
Afghanistan has some of the world's most dangerous roads and deadly accidents are common.
In April 2013 a bus hit a wrecked fuel tanker in the southern province of Kandahar, killing 45 people.
He says the accident happened early Sunday in Bala Murghab district. Badghis is one of Afghanistan's poorest and least developed regions.
Poorly-maintained roads and reckless driving are major issues in Afghanistan. Road fatalities top 6,000 annually, according to the World Health Organization.
Monday 4 May 2015
http://www.arabnews.com/world/news/741556