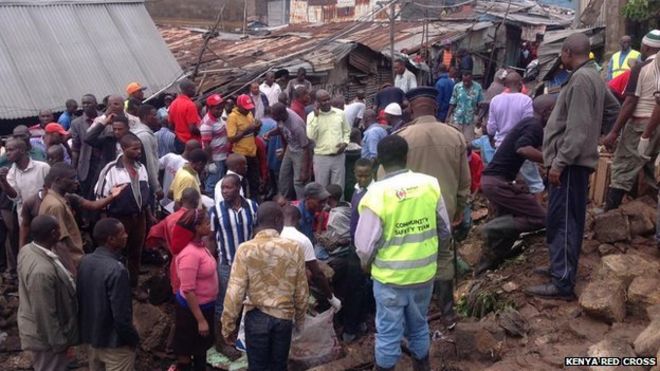 At least 10 people have died after the partial collapse of a mosque in Nairobi due to heavy rainfall.
Emergency services were continuing rescue operations in Mukuru, a slum of Nairobi, and have not ruled out the possibility of more bodies being found under the rubble.
Nairobi police chief said early investigations suggested that the wall surrounding the mosque was weakened after being soaked by rain.
In the slums, buildings are made with very poor materials, like clay, making them vulnerable to the elements.
Several parts of Kenya have been hit by flooding after abnormally high rainfall.
In north-eastern Kenya, heavy rains have forced hundreds of families to leave their homes different villages across the region.
In the worst-hit town of Jarajira in north-eastern Garissa county, about 1,000 families had left for higher ground, one local official told the BBC's Bashkas Jugsodhaay in Garissa.
The rains have also affected nomadic communities in the region, with many of them losing their livestock, he says.
Wednesday 13 May 2015
http://www.sbs.com.au/news/article/2015/05/12/10-killed-after-mosque-collapses-kenya
http://www.bbc.co.uk/news/world-africa-32707150