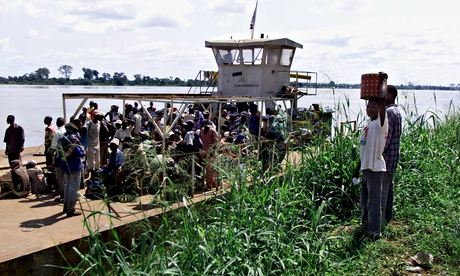 At least 108 people died and 14 others are missing after a riverboat capsized on the Oubangui river in Central African Republic, according to the Transportation Ministry.
The sinking happened on Monday after the boat's motor exploded, starting a fire that quickly engulfed the vessel and forced terrified passengers to jump overboard.
The boat was carrying over 100 people down the Oubangui river from the capital, Bangui, when the fire broke out near the village of Modale, officials said on Thursday.
A naval official said at least 80 people were on board the New Jerusalem when it left Bangui, about 80 miles upstream from where it came to grief. "But others had probably been taken on during the voyage, bringing the number of passengers to more than 100."
Only one body has so far been found, he said, that of a "child who is being taken back to Bangui with his mother, [who was] one of the few survivors. It is hard to say how many people have died because there is no rescue team [in the area]".
Joseph Tagbale, the mayor of the port district of Bangui, said it was difficult to estimate how many lives had been lost. "We are asking the authorities to search to see if there are any survivors."
Residents of nearby towns recovered dozens of bodies from the water today and yesterday after the vessel capsized late on Jan. 13 at Ndimba village, about 42 kilometers (26 miles) from Bangui, according to Ndimba village chief Auguste Gbety. All the recovered bodies were buried on the riverbanks, he said.
"Only 14 people survived because of a lack of emergency resources," he said.
The Oubangui, a tributary of the Congo River, is more than 1,000 kilometers long and is used by boats to transport goods and people between Bangui and Brazzaville in the Republic of Congo.
Thursday 15 January 2015
http://www.bloomberg.com/news/2015-01-15/at-least-108-dead-as-central-african-republic-boat-capsizes.html
http://www.theguardian.com/world/2015/jan/15/central-african-republic-boat-fire-sinks