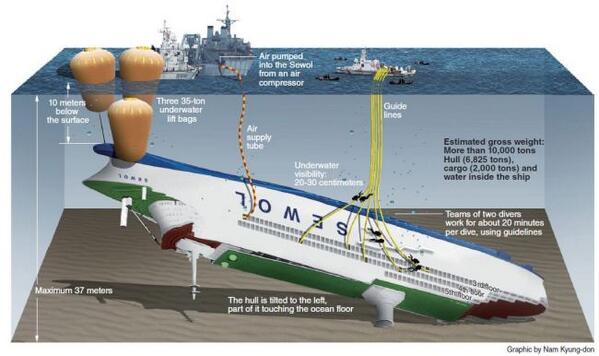 Two more bodies have been found this week; 14 people are still missing, presumed dead.
A search team recovered another body from the submerged Sewol ferry in South Korea on Friday, raising the death toll to 290. The government's disaster-response team said that military, coast guard and civilian divers discovered the body of the male victim on the third deck of the capsized ferry and are awaiting confirmation of his identity. Fourteen people remain missing.
The retrieved body is the second found this week after a lull in recoveries since May 21. On Thursday, a body was found floating 25 miles (40 km) away from the site of the sunken ship. In a statement, the government task force said it used fingerprints to identify the body as a passenger from the ship. The victim was traveling on the doomed vessel with his wife and two sons to Jeju Island.
The rescue teams are now planning to break the hull around the third and fourth floors of the ship to enter inside the still inaccessible cabins where more bodies are believed to be trapped.
Apart from third and fourth floors, the rescuers are combing the foyer of the fifth floor.
The authorities have ruled out the possibility of pulling the ship out of the water until the families of the victims still believed to be trapped give their consent.
The 6,825-tonne Sewol was sailing from Incheon city, east to Seoul, to the southern island of Jeju when it sank facing the southeastern coast of the Korean peninsula with over 300 passengers aboard.
Investigations revealed that the ferry was carrying triple its capacity, and had gone through remodelling two years ago to extend it capacity.
Saturday 07 June 2014
http://time.com/2836274/sewol-ferry-south-korea-toll-290/ http://www.newstrackindia.com/newsdetails/2014/06/06/199--Another-body-recovered-from-sunken-South-Korean-ferry-.html