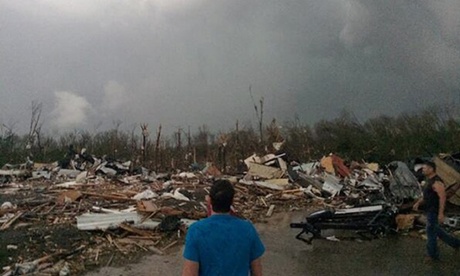 At least 12 people have been killed after a powerful storm system wreaked havoc through the southern and central US on Sunday night.
A spokesman for the Arkansas governor, Mike Beebe, said 11 people were were killed in his state when a tornado carved through several suburbs north of Little Rock.
Local television station THV 11 said the local sheriff in Faulkner county had confirmed that six people died in the town of Vilonia.
"It's just devastating," Sheriff Andy Shock told THV 11. Shock said the town was facing a "mass casualty situation" and that nearby interstate 40 had been closed in both directions after cars and trucks were overturned.
Emergency workers and volunteers went door-to-door to look for victims. "It turned pitch black," said Mark Ausbrooks, who was at his parents' home when the storm arrived. "I ran and got pillows to put over our heads and ... all hell broke loose."
"My parents' home, it's gone completely," he said.
The large tornado stayed on the ground as it moved north-eastward for at least 30 miles (48km). Television footage showed badly damaged buildings and vehicles.
The neighbouring town of Mayflower was also badly hit. About 45 homes were destroyed and a lumberyard was damaged, said Will Elder, an alderman in the town of 2,300 people. He said at least one person was injured.
The tornado passed through the east side of town, tearing up trees and bringing down powerlines, making it difficult for the emergency services to find stricken areas in the the darkness.
"It's extremely hazardous here right now," said Elder. "The power lines are down, roads are blocked and they will have to proceed with caution."
In the western part of the state, Pulaski county sheriff's lieutenant Carl Minden said three people were killed when a tornado hit the area. Minden said several others were injured at the scene.
"I'm standing on the foundation of the house now. It's totally gone," Minden told the Associated Press.
The storm system passed through Arkansas at about 7.30pm as around a dozen twisters were reported across the region.
At least one person was killed in a tornado in the small Oklahoma town of Quapaw.
A police dispatcher in Ottawa County, Oklahoma, said a search and rescue effort was under way in Quapaw, but could not confirm reports of fatalities.
Tornadoes were also reported in Iowa, Kansas, Nebraska and Missouri on Sunday afternoon and evening, causing some damage but no known injuries, according to local officials and the weather service.
Monday 28 April 2014
http://www.theguardian.com/world/2014/apr/28/tornado-kills-two-in-oklahoma-as-sheriff-reports-mass-casualties