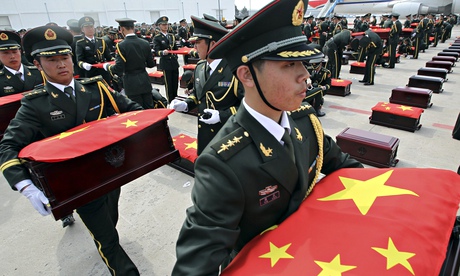 South Korea on Friday repatriated the remains of 437 Chinese soldiers killed during the Korean War six decades ago, making a gesture symbolic of warming ties between the two nations.
China sent a flood of soldiers to help its Communist ally North Korea, which invaded South Korea in June 1950. Its intervention saved the North, whose forces had been pushed back toward the country's northern corner by American-led United Nations forces later that year. The three-year war ended in a cease-fire, leaving the divided Korean Peninsula technically in a state of war.
Over the years, when South Korea discovered the remains of hundreds of Communist soldiers in old battle sites, it kept them in a tucked-away, little-known temporary burial ground north of Seoul, until recently known as "the enemy cemetery."
That it took six decades for the bodies of the fallen Chinese soldiers to return home bore testimony to political uneasiness rooted in a war that, while it long ago ended, was never formally put to rest.
Between 1981 and 1989, North Korea accepted the remains of 42 Chinese soldiers from South Korea and handed them over to Beijing. But it has never been willing to negotiate for the return of its own fallen soldiers. Accepting their return home would be seen as a gesture of closing the war, which North Korea insists will not be over until Washington signs a peace treaty with it.
After accepting the remains of another Chinese soldier in 1997, North Korea refused to accept any more, leaving the 437 Chinese soldiers stranded in the inter-Korean deadlock.
A breakthrough came last June when President Park Geun-hye of South Korea visited China to cultivate warmer ties with China. She offered to send the Chinese remains home as a good-will gesture, and Beijing welcomed it.
"The repatriation today will be a landmark for the two countries in healing the trauma from the past and moving toward coprosperity," Vice Defense Minister Baek Seung-joo of South Korea said during a ceremony held at Incheon International Airport, west of Seoul.
During the ceremony, the Chinese ambassador, Qiu Guohong, placed Chinese flags on dark brown boxes that contained the remains. Chinese soldiers carried them aboard a Chinese plane, which flew them to the Resist America and Aid Korea Martyrs Cemetery, the resting place for China's Korean War dead, located in Shenyang, in northeastern China.
China remains North Korea's last remaining major ally, while the United States is South Korea's No. 1 military ally. But China has overtaken the United States as South Korea's biggest trading partner since it normalized relations with Seoul in 1992. Each year, millions of Chinese visit South Korea as tourists.
Still, the existence of Chinese remains, and the "enemy cemetery" itself, has drawn little attention in South Korea, even though some Chinese tourists began visiting it in recent years. Built on a hillside, it is difficult to find.
Now with their Chinese companions gone, the remains of 770 North Korean soldiers stay marooned in the cemetery only a few miles south of the inter-Korean border, their forlorn grave markers emblematic of unresolved Cold War hostilities that still divide the Koreas. Their graves all face north, looking homeward, in contrast to the Korean tradition of aligning graves toward the south.
Also buried there are dozens of postwar North Korean agents, including commandos killed in an unsuccessful 1968 attack on the presidential palace in Seoul and a North Korean agent who killed himself after planting a bomb on a South Korean jetliner that exploded over Myanmar in 1987 with 115 people aboard.
The bodies of the agents cannot go home because their government has not acknowledged their missions.
Estimates of the number of Chinese killed in the war vary from 110,000 to over 400,000.
South Korea said it would continue to repatriate Chinese remains if it discovered more while excavating battle sites for its own war dead.
Friday 28 March 2014
http://www.nytimes.com/2014/03/29/world/asia/south-korea-returns-bodies-of-hundreds-of-chinese-soldiers.html?_r=0