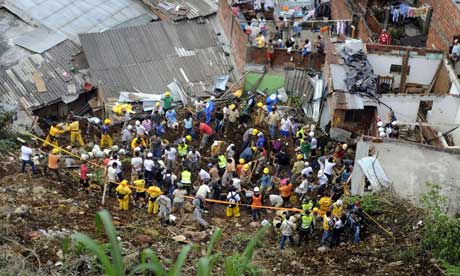 At least six people have died, four were injured, six went missing and widespread material damage was inflicted by the torrential rains falling across a large part of Colombia, officials said.
The national emergency management service UNGRD said the count of victims is based on reports from seven provinces since Wednesday, the day when the rainy season began in this country, according to meteorologists.
Three of the fatalities were in Palmira and Cali in the southwestern province of Valle del Cauca, another was in Palermo in the southern province of Huila, and two were in Bucaramanga, capital of the northeastern province of Santander, where this Friday the bodies of two members of a family of four were recovered after their home was buried under a mudslide.
The other two mudslide victims in Bucaramanga's 12 de Octubre neighborhood are still missing, as are another four people in Valle del Cauca.
UNGRD said that in Colombian territory, 17 emergencies have been reported, "including the avalanches, mudslides, high winds, storms, cresting rivers and floods" that have hit 16 municipalities, chiefly in the provinces of Huila, Santander, Valle del Cauca and Cundinamarca.
Besides the dead, injured and missing, the downpours have affected 58 family homes, of which six were totally destroyed and 52 suffered significant damage.
The national director of UNGRD, Carlos Ivan Marquez, visited Friday the Bucaramanga area, where the mudslide occurred that buried the family of four, to supervise search-and-rescue operations.
Marquez traveled Saturday to Palmira, Valle del Cauca, to check on the emergency situation caused by another mudslide in which four people went missing.
Sunday 16 March 2014
http://www.laht.com/article.asp?ArticleId=1777691&CategoryId=12393