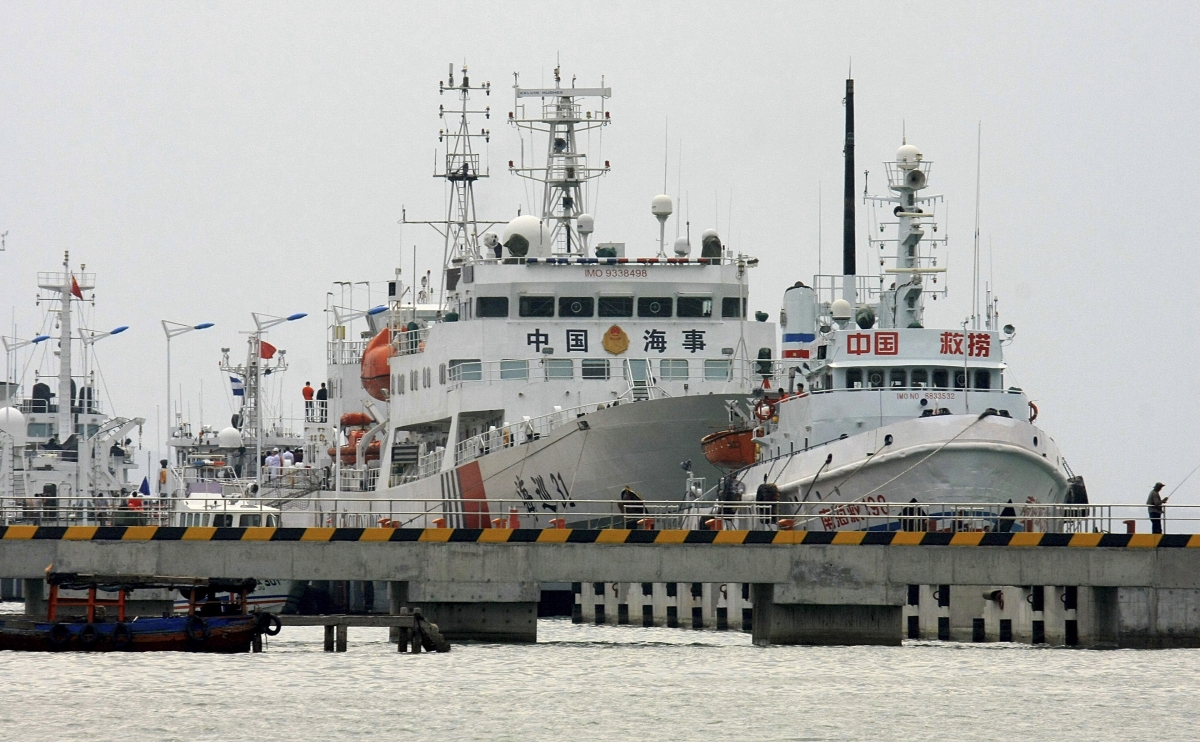 China has sent two warships to join the search for the missing Malaysia Airlines Boeing 777-200, joining ships and aircraft from five other countries. The search area has been expanded across the South China Sea to Malaysia's west coast following reports that the plane tried to turn back to Kuala Lumpur shortly before it disappeared from radar with 239 people on board.
As Interpol confirm they are investigating the identity of two passengers believed to be travelling with stolen passports, a leading security expert claims Thailand is at the centre of the illicit trade in stolen and fraudulent passports and forged documentation due to its lax laws.
Speaking in a TV interview Steve Vickers, CEO of security and consulting company Steve Vickers and Associates (SVA), said the theft of passports and counterfeiting of documents is a particular problem in Thailand: "Thailand is one of the centres for this activity so it's pretty easy to pick up a stolen or counterfeit passport. In this case it would appear that the documents are genuine but the people travelling on them were people other than to whom (they were) issued."
Asked how easy it is to get stolen passport or other documents in Thailand, Vickers, who has previously spoken extensively on the subject, added: "Regrettably, in Bangkok it's quite open – there are various streets where all kinds of fraudulent documents can be obtained, from airline staff identification cards to US driving licences. (However) most of these are used for fraudulent purposes rather than for darker purposes."
Vickers believes the reason Thailand has become the epicentre for the trade is due to its lax laws in the area. Under Thai law it is relatively difficult to take action. However, Vickers believes it is unusual for people to be able to board international flights using stolen passports.
"Anybody with 20/20 vision can point fingers but I think in the longer term people will be looking at how these people get through immigration counters."
Both men reported as being aboard the plane - Luigi Maraldi of Italy and Austrian Christian Kozel – are believed to have had their passports stolen in the Thai resort of Phuket. Tickets for flight MH370 were reportedly purchased in their names at a travel agency in Pattaya from China Southern Airlines.
It comes as Interpol criticised Thailand's lax airport security after it emerged at least two passengers boarded the Malaysia Airlines flight MH307 with stolen passports
Procedural checks would have revealed that at least two passengers were travelling on stolen passports stolen.
The passports were used to buy tickets booked in the names of Italian Luigi Maraldi and Austrian Christian Kozel on March 6, 2014, and issued in the Thai city of Pattaya, a popular beach resort south of the capital Bangkok.
Luigi Maraldi, 37, the owner of one of the passports, was listed as the sole Italian national on the missing flight. This afternoon he told how the document was stolen while he was on holiday in July last year on the island Phuket.
Mr Maraldi said it happened when a deal went wrong at a motorcycle shop in Patong.
Missing Malaysia Airlines Boeing 777 feared crashed off Vietnam 'collided with another plane breaking its wingtip two years ago' Mr Maraldi reported his passport stolen in Thailand last August and was allowed to travel back to his native Italy on temporary documents.
On Sunday, his father Walter explained the original was stolen after he used it to hire a motorbike.
'Last summer he was in Thailand and handed over the passport so he could hire a scooter but when he brought it back, they said they had already given it back to someone else, so he reported it stolen,' he said.
Mr Maraldi added:'The whole thing is a mix up - we have no idea who the person was that used my son's passport. The first I knew something had happened was when my son rang from Thailand on Saturday morning to say he was alive.
He said he had seen his name on the news reports as being on the missing airplane and he wanted to let us know he was alive and well. To be honest, I had no idea whet he was talking about as I hadn't seen the news by then.
'Once everything was cleared up, we said goodbye and I went and watched the news - a few minutes later the Italian Foreign Ministry rang to ask if I was the father of Luigi Maraldi and to say that he was on the passenger list.
'They were amazed when I said they were mistaken as I had just spoken to him and he was fine. They asked me for his number so they could call and check for themselves.
'They said his passport had been used by someone and they needed to check for certain he was ok. We are delighted that he is ok but he was never really involved in the disaster directly.'
The owner of the other stolen passport was Austrian citizen Christian Kozel, 30, who's name also appeared on the passenger manifest.
Mr Kozel discovered he had been listed when uniformed police officers turned up at his home in Salzburg at the weekend. He said: 'I was pretty shocked when I saw them at my door, and was relieved to find out that although I was dead, at least it was only on paper.'
But it still left him with a lot of worried friends and relatives that he had to reassure after it was reported that he was dead. He said he had reported the passport as stolen while he was in the same part of Thailand two years ago, and that it had apparently then been used by someone illegally.
In a statement issued today, the France-based international police body said information about the thefts was entered into its database after they were stolen in Thailand.
Officials from Italy and Austria also confirmed that the travel documents of both men were reported stolen in Thailand. Interpol said it was now investigating all other passports used to board flight MH370 and was working to determine the 'true identities' of the passengers who used the stolen passports.
'Whilst it is too soon to speculate about any connection between these stolen passports and the missing plane, it is clearly of great concern that any passenger was able to board an international flight using a stolen passport listed in Interpol's databases,' Interpol Secretary General Ronald Noble said in a statement.
Noble expressed frustration that few of Interpol's 190 member countries 'systematically' search the database to determine whether documents being used to board a plane are registered as lost or stolen.
'This is a situation we had hoped never to see. For years Interpol has asked why should countries wait for a tragedy to put prudent security measures in place at borders and boarding gates,' he said.
Malaysian Security officials earlier revealed they had footage of two passengers traveling on passports stolen in Thailand - one registered to an Italian and the other an Austrian - making their way through Kuala Lumpur passport control to the aircraft. The passengers being checked had all bought their tickets through China Southern Airlines.
It appears the the tickets linked to the Italian and Austrian passports were bought together in Thai baht at identical prices, according to China's official e-ticket verification system Travelsky. The ticket numbers are contiguous, which indicates the tickets were issued together.
Sunday 09 March 2014
http://www.ibtimes.co.uk/malaysia-airlines-flight-mh370-police-trail-fake-passport-holders-thailand-1439522