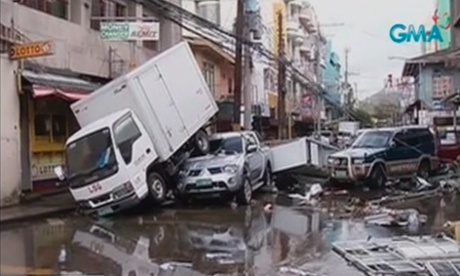 At least 100 people have died in the Philippines from the impact of super typhoon Haiyan, a senior government official said on Saturday.
Many bodies were lying in the streets of the central city of Tacloban, according to reports received by Captain John Andrews, deputy director general of the Civil Aviation Authority of the Philippines.
Andrews told the Associated Press the "reliable" information about the deaths was relayed to him by his staff in Tacloban, but communications with the capital Manila were only possible every few hours.
Officials said most of the houses in Tacloban, a city of about 220,000 people, had been destroyed in a surge of flood water and high winds, according to Reuters.
Before communications were cut on Friday, city officials had reported heavy flooding. Mobile phone networks, power lines and trees were toppled and most roads were cut off.
"Almost all houses were destroyed, many are totally damaged. Only a few are left standing, but with partial damage," said Major Rey Balido, a spokesman for the national disaster agency.
Cabinet secretary Rene Almendras, a senior aide to President Benigno Aquino, said that the number of casualties could not be immediately determined, but that the figure was "probably in that range" given by Andrews. Government troops were helping recover bodies, he said.
US marine Colonel Mike Wylie, who surveyed the situation in Tacloban in preparation for possible American assistance, said the damage to the runway at the seaside air terminal was significant, but military planes were still able to land with relief aid.
"The storm surge came in fairly high and there is significant structural damage and trees blown over," he told the AP.
The Philippine television station GMA reported its news team saw 11 bodies, including that of a child, washed ashore on Friday and 20 more bodies at a pier in Tacloban hours after the typhoon ripped through the coastal city.
At least 20 more bodies were taken to a church in nearby Palo town that was used as an evacuation centre but had to be abandoned when its roofs were blown away, the TV network reported. TV images showed howling winds peeling off tin roof sheets during heavy rain.
Ferocious winds felled large branches and snapped coconut trees. A man was shown carrying the body of his six-year-old daughter, who drowned, and another image showed vehicles piled up in debris.
Haiyan, one of the strongest storms ever to hit land, was leaving the Philippines behind on Saturday, having flattened houses, triggered landslides and floods and knocked out power and communications across a number of islands. More than 750,000 people were forced to flee their homes.
The toll of death and damage is expected to rise sharply as rescue workers and soldiers reach areas cut off by the massive, fast-moving storm, now heading towards Vietnam.
Authorities in 15 provinces in Vietnam started to call back boats and prepare for possible landslides. Nearly 300,000 people were moved to safer areas in two provinces alone – Da Nang and Quang Nam – according to the government's website.
Forecasters said the storm was expected to pick up renewed strength over the South China Sea.
There were hopes the Philippines had avoided a worse disaster because the rapidly moving typhoon blew away before wreaking more damage, officials said.
But because communications were severed, it was impossible to know the full extent of casualties and damage.
Southern Leyte governor Roger Mercado said the typhoon ripped roofs off houses and triggered landslides that blocked roads. The dense clouds and heavy rains made the day seem almost as dark as night, he said.
"When you're faced with such a scenario, you can only pray and pray and pray," Mercado told the Associated Press by telephone. He said mayors in the province had not called in to report any major damage.
"I hope that means they were spared and not the other way around," he said. "My worst fear is there will be massive loss of lives and property."
Eduardo del Rosario, head of the disaster response agency, said the speed at which the typhoon sliced through the central islands helped prevent its 375-mile band of rain clouds dumping enough of their load to overflow waterways. Flooding from heavy rains is often the main cause of deaths from typhoons.
"It has helped that the typhoon blew very fast in terms of preventing lots of casualties," regional military commander Lieutenant-general Roy Deveraturda said. He said the evacuation of so many villagers before the storm also saved many lives.
As relief workers began assessing the damage, US secretary of state John Kerry said his country stood ready to help.
"Having so recently had my own visit to the Philippines prevented by another powerful storm, I know that these horrific acts of nature are a burden that you have wrestled with and courageously surmounted before. Your spirit is strong," Kerry said in a statement.
Among the evacuees were thousands of residents of Bohol who had been camped in tents and other makeshift shelters since a magnitude-7.2 earthquake hit the island province last month.
Relief workers said they were struggling to find ways to deliver food and other supplies, with roads blocked by landslides and fallen trees.
Saturday 09 November 2013
http://www.theguardian.com/world/2013/nov/09/philippines-bodies-streets-hundreds-feared-dead-typhoon-haiyan