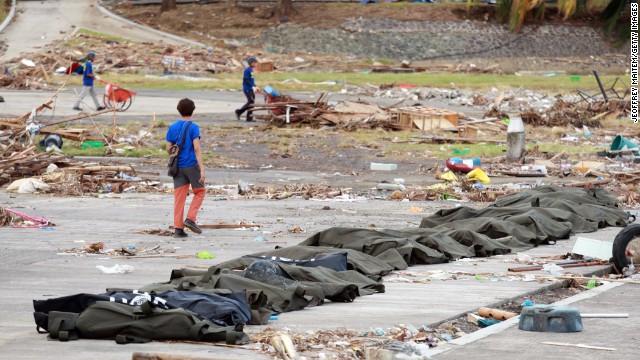 A group of forensic experts from the International Police (Interpol) will fly to Tacloban City this weekend to assist local authorities in identifying the remains of those who died during the onslaught of Super Typhoon Yolanda.
Justice Secretary Leila de Lima made the announcement after meeting on Thursday with the Interpol's disaster victim identification (DVI) team, which will help the National Bureau of Investigation forensic team identify thousands of cadavers.
The Interpol team is composed of experts from Canada, United Kingdom, Cameron, Jordan, Bosnia and South Africa.
"They said they're willing to help and they're willing to extend assistance and give advice to the whole process of DVI. This weekend, they will go to Tacloban City to make an initial assessment so that they will be able to craft or formulate proposals on how to go about the DVI given the magnitude of the casualties," De Lima said, in an interview.
"That's the initial team and depending on the exact process, I think more experts from the Interpol will fly to the country," the Justice Secretary said.
De Lima said the Interpol's assistance in the DVI operations would be very helpful, citing the same help extended by the international body during the "Princess of the Star" tragedy off Romblon in June 2008.
With this, the integrity of the whole process of identifying the casualties will be ensured with the help of the foreign forensics experts.
"They (Interpol) explained that identifying the corpses is a tedious process. You don't determine the identity of the dead bodies on the basis of their shirt or their belongings. So what is needed here, according to the Interpol, is a scientific process of identifying the bodies, like DNA testing," De Lima said.
"It will add further to the anguish of the family if you give them the wrong cadaver," she added.
The first batch of NBI experts flew to Tacloban Tuesday last week. It was composed of 15 to 20 forensic experts. A second batch followed over the weekend.
According to De Lima, the NBI forensic team is planning to set up apartment-type tombs to be able to identify an initial batch of 700 collected cadavers.
She said the ideal setup – as agreed upon by the Department of Health and volunteer private pathologists - is to put 10 to 20 corpses in a tomb.
Friday 22 November 2013
http://manilastandardtoday.com/2013/11/22/interpol-gets-into-the-act-in-yolanda-s-wake/