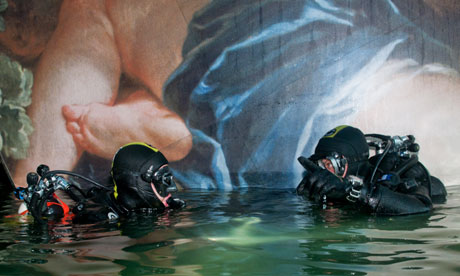 Divers have discovered what they believe to be two bodies amid the wreckage of the Costa Concordia.
A 19-hour salvage operation began to upright the wreckage last week after the ship struck rocks on 13 January 2012, capsizing and killing 32 people.
Bodies of two of the dead were never retrieved from the vessel, which lay submerged on it's side for 20 months. The side of the ship is badly smashed in after taking the impact of the crash.
Specialised police divers were going into the sea to remove the remains, which will be examined by forensic experts on the mainland in Tuscany.
Four thousand holidaymakers and crew were aboard when it was steered into rocks after coming dangerously close to the rocky coast of Giglio, Italy.
Ship Captain Francesco Schettino is charged with manslaughter, causing the shipwreck and abandoning ship before the cruise liner's passengers and crew could be evacuated.
Schettino is now the only person currently standing trial over the tragedy in Italy and faces up to 20 years in prison if convicted.
The head of the civil protection agency Franco Gabrielli told reporters the remains were "absolutely consistent" with the two missing people, an Indian man and an Italian woman.
The remains were spotted in the sea near the central part of the ship, where survivors had said the two were last seen.
However, their identities can only be definitively confirmed after DNA testing is conducted.
Now the ship is resting upright and sitting upon a man made platform on the seabed, it is expected to be towed away from the Italian island in early 2014.
Thursday 26 September 2013
http://www.independent.co.uk/news/world/europe/costa-concordia-divers-discover-human-remains-in-shipwreck-8841847.html