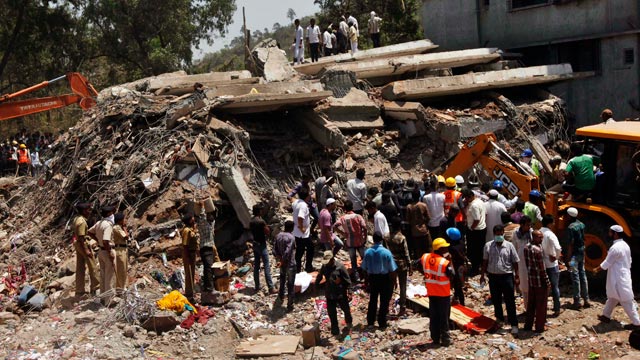 Several families were unable to identify the bodies of their near and dear ones at JJ Hospital because they had swelled up and unrecognisable. Lack of coordination between the hospital and the cops added to the confusion.
The Jadhavs were not sure whether the body handed over to them was that of their daughter Pallavi (20).
Pallavi was brought in at J J Hospital at 8 pm on Saturday night after which her maternal aunt Reshma Jadhav identified her body and were given her necklace and bracelet after the due process.
The family said that they filled up a form with the police as well as the senior medical officer present at the time.
Reshma said, "I went up to identify the body of Pallavi's mother Chitra for around 10 minutes and returned to the hospital on Sunday morning to claim Pallavi's body after the post-mortem was conducted."
"I learned that another family called the Gaikwads had taken the body and performed the last rites assuming it was their 17-year-old daughter Komal Gaikwad," she added.
Reshma went to the medical officer after the mix up and was shown the list in which Pallavi's name was crossed off and instead Komal Gaikwad's entry was made.
The family then exchanged heated words with hospital officials as to why they handed over the body to the Gaikwad family.
Hospital officials began to run around to confirm the identity of Pallavi after which J J Dean Tatyarao Lahane, ex-corporator Yeshwant Jadhav and BMC union leader Sanjay Baperkar met with the family for around 10 minutes.
The family who had assumed that they were given Komal Gaikwad's body was taken back to the morgue along with officials after which the Jadhav family were convinced that it was Pallavi.
Yeshwant Jadhav said, "When we calmed the family down and took them to the morgue, they recognised her earrings as well as a ring that Pallavi wore on the middle finger of her left hand."
Pallavi's paternal uncle, Suresh Jadhav confirmed the identification, he said, "Yes we saw the body and are convinced that it is Pallavi."
The 24-hour drama ended at 8 pm on Sunday, the family is awaiting for the body of Pallavi's brother Sanket who is yet to be identified. Pallavi's sister Mansi and her mother Chitra were found dead on Saturday evening. The only survivor is her father Chandrashekar Jadhav (50) who was found with minor injuries after 32 hours of the collapse.
Chandrasheakar is also admitted in J J Hospital, but has not been told about the death of his family members, said his brother Suresh Jadhav.
Monday 30 September 2013
http://freepressjournal.in/now-the-bungle-over-bodies/