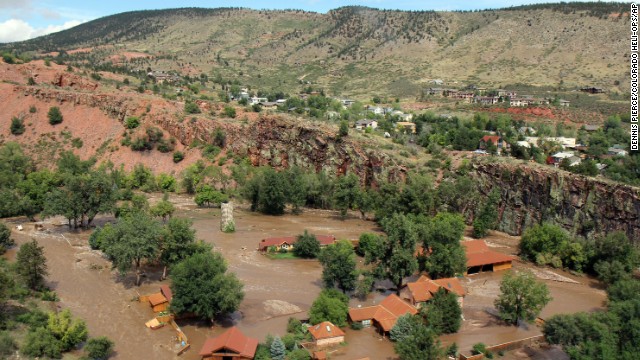 As furious waters flow through flood-devastated northern Colorado, fears and tales of devastation grow.
At least four people have been killed and 172 are unaccounted for, officials say.
The nightmare is far from over as the state awaits more rainfall Saturday, threatening to send swollen rivers gushing through streets choked with debris. The rain is expected to come down heavy Sunday.
It will not be as much as the 15 inches dumped in some spots this week, but it could cause more flooding in areas where water has already receded, forecasters warned.
Residents got some relief Friday when rains subsided, giving a clear view of towns turned into abrupt lakes, homes and businesses inundated with muddy water and bridges devoured by raging creeks. Homes dangled off cliffs.
Rescuers have retrieved the bodies of the four who died in the waters. Many more people are cut off by devastated roadways, and authorities don't know how long it will take to reach them.
Gov. John Hickenlooper warned an extensive recovery is ahead for the affected area from the state's center into the northeast.
"This is not going to get fixed in a week," he said. "We have lost a great deal of infrastructure."
Human toll
Currents swept away a woman who got out of her car Thursday in Boulder County. A man jumped out of the car to save her. Both drowned.
Authorities have recovered both bodies, said Sheriff Joe Pelle. An additional body turned up in the same county. Rescuers recovered yet another in El Paso County.
In Denver, rushing waters swept a man into a drainage pipe with his dog. Both were saved after traveling two blocks in the water, police said.
All the people unaccounted for were in Boulder County alone.
"These are people whose family or friends haven't been able to reach or account for them, not necessarily in harm or dire need," said county spokeswoman Gabrielle Boerkircher.
President Barack Obama declared an emergency for Boulder, Larimer and El Paso counties, FEMA announced Friday. The declaration allowed FEMA to bring in four rescue teams, the largest ever deployment in Colorado, officials said.
The clear skies allowed for an uptick in evacuations.
National Guard troops using "high-profile" trucks to wade through water evacuated 550 people from the Boulder County town of Lyons, CNN affiliate KUSA reported.
It had been cut off since the flooding began Wednesday night -- without water or sewer service, in many cases without electricity.
Saturday 14 September 2013
http://edition.cnn.com/2013/09/14/us/flooding-colorado/