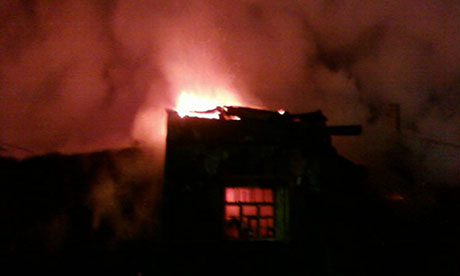 A fire raged through a Russian psychiatric hospital on Friday, killing at least three people and leaving dozens missing as police searched the surrounding area for survivors.
More than 30 others were feared dead, officials said on Friday.
The pre-dawn fire at a ward for severely ill patients was the second deadly blaze at a psychiatric hospital in Russia this year and is likely to prompt criticism of the state over its treatment of the mentally ill and other vulnerable citizens.
The fire in the one-storey hospital in the village of Luka in the north-western Novgorod region broke out about 3am local time Friday (midnight BST) and quickly engulfed the mostly wooden structure dating back to the 19th century, the emergency situations ministry said.
Authorities had long warned that the building was unsafe and called for its closure.
Emergency officials said that 23 of 60 people who were in the building when the blaze broke out were evacuated. Emergency teams found the bodies of two patients and a nurse, who they said died while trying to rescue others.
Another 34 people remained unaccounted for and were feared dead. Emergency workers were combing a nearby forest for patients who might have fled the blaze.
Some of the missing might have escaped, ministry official Oleg Voronov said on Ekho Moskvy radio.
The building housed male patients, state-run RIA reported.
Investigators suspect the blaze was caused by a patient setting a bed on fire, Interfax news agency reported, but regional governor Sergei Mitin said it might have been accidental.
"Medical personnel saw a patient who was shrouded in flames ... It's possible that he was smoking in bed and the mattress caught fire," Mitin said, according to Interfax. He said the ward that caught fire housed severely ill patients.
Emergency officials and prosecutors had sought to have the building condemned as unsafe, but a court instead ordered management to correct unspecified flaws by August 2014, the head of safety oversight for the ministry said.
"The building that burned was unfit for use," the official, Yuri Deshevykh, told Itar-Tass.
There have been many fires with high death tolls at state institutions such as hospitals, schools, drug treatment centres and homes for the disabled in the past decade, raising questions about safety measures, conditions and emergency exit routes.
In April, a fire at a psychiatric hospital outside Moscow killed 38 people.
Yuri Savenko, president of the independent psychiatric association of Russia, said after that fire the dilapidated state of psychiatric hospitals was pushing death tolls in such incidents up. He said a third of the buildings at such facilities had been declared unfit for use since 2000.
Friday 13 September 2013
http://www.theguardian.com/world/2013/sep/13/dozens-missing-russian-psychiatric-hospital-fire